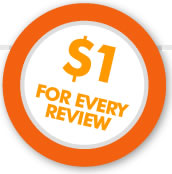 YOU review any business & WE donate
a dollar to the charity of your choice!
$

1

For every review.
(Reviews must be at least 25 words to qualify
unless it's a video review. * See below for full details)

n49 donation
dollars to date

$

74963
DOUBLE

YOUR DONATION
$

2

Any member can vote or comment on your reviews.
Write popular reviews or add photos & videos & we


DOUBLE

your donation to

$2

.

The featured charity for March 2019 is
Canadian Cancer Society

Select your favourite charity on your edit profile page
DONATION DOLLAR
Here's how it works:

Write a review and N49 will donate $1 to the charity of your choice, selected from a list found on N49.ca Donation Dollar page.
To qualify, the review must be unique and be a minimum length of 25 words, unless submitted in a form of a video.
Members are limited to one review per listing
The donation dollars are accumulated on a monthly basis and distributed to the charities at the beginning of the following month.
You may change the charity of your choice any time you wish. However, the charity that is selected in your profile at the time our reports are generated will receive your donation dollars for the report month. For example, on January 1st we will process the donation dollar reports for November. The charity in your profile on January 1st will receive all of your donation dollars for the month of November.
If a charity is not selected, N49 reserves the right to assign the donation to the Featured Charity of the Month.
Popular reviews as determined by N49 members, using the criteria a) a must read b) helpful and c) not helpful, are eligible for Double Donation Dollars. Photos and videos included in your review will increase your review's eligibility. The charity for donation will be at N49's discretion.
This program is open to everyone, including N49 Interactive Inc. employees and their families.
All donations will be made in the name of N49 Interactive Inc.
*N49 reserves the right to change the donation criteria at any time.